If you change your WordPress theme and your ezoic ads stop showing this is likely due to the structure of your site being altered and this will likely cause issues for the ezoic Optimization AI. In this blog post, I will be walking you down the reason and solution for the issue "Ads Not SHowing after Changing My Theme".
Whenever you try changing your theme on WordPress if you have your ezoic plugin activated, this pop-up should show.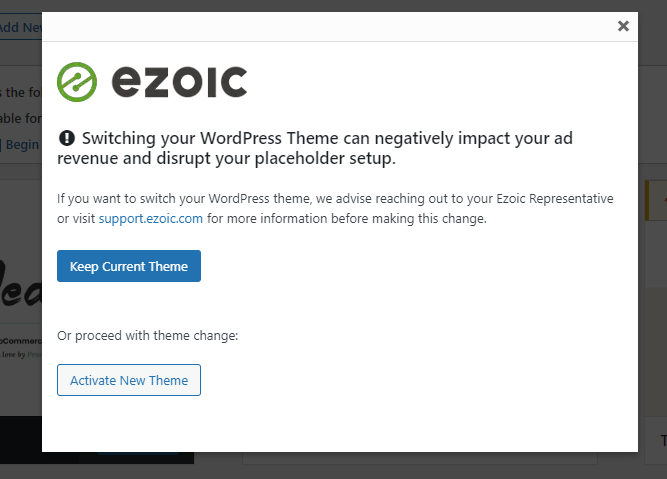 And this is actually due to the issue that the fact that changing your theme will disrupt your placeholder settings and may cause your ads to stop showing.
What to do when My ads stop showing after changing my Theme?
When your ads stop showing after changing your theme, you should make use of these troubleshooting points as soon as possible.
Confirm There's No issue with your Monetization/Ezoic ADS status
This is the first and the most important, there may be a coincidence between you changing your theme and you having a monetization issue, maybe a demonetization or a Google Admanger disablement. You may want to confirm you have no issue with ezoic ads and Google Admanger. You can confirm that at https://pubdash.ezoic.com/ezoicads/adtransparency/mcm
Make sure your Placeholders are still intact
You should make sure your placeholders are all active and there's no deletion of placeholders off your site. You can check this by using the ezoic Chrome extension, if there's no or little placeholder then you should create new ones with the extension or generate them with the ezoic WordPress plugin.
The next line of troubleshooting is to clear out your cache, your server may still be calling the old version of your site before changing your theme. So it's always recommended to clear your cache. You can clear out your cache at https://pubdash.ezoic.com/leap/caching
Since ezoic optimization is done by AI, it's recommended you give things at least 24 hours after doing the first two . This way the AI will have enough time to gather data about your new theme and the best ads to be shown.
Conclusion
Ads not showing after changing theme is a relative issue that happens when a publisher changes their website theme and this causes it to disrupt the site structures which gives the ezoic AI a hard time getting your site data. By implementing this troubleshooting writeup you should get things sorted within 24 hours, and if it last longer you should reach out to ezoic support at https://community.ezoic.com/